OUR MISSION
Children's Network coordinates preventative programs and services through collaboration and engagement with community and county partners to strengthen and promote child, family, and community well-being.
OUR VISION
Children's Network envisions positive outcomes for children and families in San Bernardino County. This is achieved through active and engaged collaborations of county and community partners, relevant training opportunities for service providers, and promoting public awareness and shared understanding of risk factors of child abuse and neglect.
Wendy Alvarez
Children's Network Officer (Interim)
Wendy began her career with San Bernardino County in 2006 with the Transitional Assistance Department in multiple leadership capacities and also worked in Preschool Services. During her time with TAD she served in multiple capacities including: Supervising Employment Service Specialist, Work Experience (WEX) Program Supervisor and Employment Services Manager. She led the implementation of two NACo award winning projects for TAD, the Getting Ahead Program and the Text Notification Outreach Project. During the Pandemic, she led the implementation of a community program for Human Services Administration. She now serves as the Associate Children's Network Officer.
She is committed to improving the lives of children and families through a holistic approach that requires coordinating and providing services that strengthen and support all families; making sure each child has the opportunity to grow and flourish.
Wendy holds a Master's degree in Business Administration from the University of Phoenix and a Bachelor's degree in Bilingual Education with a minor in Cultural/Ethnic Studies from Cal State Polytechnic University, Pomona.
Jannette Zito
Staff Analyst
In October 2017, Jannette joined San Bernardino County Children's Network as their Staff Analyst II. In this role there are multiple responsibilities which include overseeing fiscal responsibilities with grants for all programs at Children's Network. Her goals for overseeing fiscal responsibility is to demonstrate ethical spending by uphold guidelines and policies of the grants and utilize all funding to benefit the mission of Children's Network.
Denise McKinney
Secretary
In August 2005, Denise joined San Bernardino County Children's Network and is currently serving as the Secretary for the department. She ensures that the day-to-day operations of the office run smoothly and provides excellent customer service.
Angel Magallanes
C.A.S.E. Coordinator
Angel Magallanes, became a member of the Children's Network team in September 2017 and is the Coalition Against Sexual Exploitation (C.A.S.E.) Coordinator. C.A.S.E. is the County of San Bernardino's Multi-Disciplinary Response to the Commercial Sexual Exploitation of Children (CSEC). She helps to facilitate human trafficking prevention trainings throughout the county to increase awareness around the topic. Angel plays an integral part in making sure that resources are made available to our youth experiencing CSEC.
Xeneida Brown
Child Abuse Prevention Coordinator
Xeneida Brown is the Child Abuse Prevention Coordinator at Children's Network. Xeneida was born in the Republic of Panama, is a native Spanish speaker, and has been a resident of San Bernardino County for over 20 years. She is an alumni of Cal Poly Pomona and holds a BA in Sociology and a Master of Public Administration. Xeneida has a long history of community service, and has served as youth director, mentor, domestic violence and immigrant advocate, interpreter, emergency response and disaster preparedness volunteer and trainer, amongst others. She has worked tirelessly in support of individuals and families through her social service work as an advocate, case manager, and children and family specialist. She has chaired and co-chaired numerous committees in support of vulnerable populations; she is committed to giving back and making a difference and is a champion for children.
Hillary Steenson-Ray
Community and Event Coordinator
Hillary Steenson-Ray has served as the Community & Event Coordinator for San Bernardino County Children's Network since 2019. She is responsible for the planning and implementation of the annual Shine-a-Light on Child Abuse awards breakfast, the annual Children's Network Conference, various other training events throughout the year, as well as, community outreach opportunities. She also oversees our Safe Sleep for Infants program. All of these efforts serve to increase the knowledge and capacity of professionals who serve children and families in San Bernardino County and to empower parents and caregivers with positive parenting practices.
Juan Solis
Father Engagement Coordinator
Juan Solis joined San Bernardino County Children's Network as the Father Engagement Coordinator in July 2018. As the Father Engagement Coordinator, Juan Solis leads the fatherhood initiative named, Inland Empire Father Involvement Coalition (IEFIC). Juan coordinates with agencies to ensure that the support services they have are accessible and father-friendly. He also develops educational content to help agencies be more father friendly. Juan Solis also coordinates with County and Community partners to host special events such as "All-Star Fathers Breakfast", Fatherhood Conference- Connecting Generations.
Doreen Ivery
Mentoring Resource Specialist
Doreen Ivery has served in the position of Mentoring Resource Specialist since March 2016. Doreen leads the Mentoring Taskforce that is charged with identifying gaps in mentoring services, helps organizations develop, implement and evaluate mentoring programs and provide continuing education opportunities to the county-wide mentoring community.
A Message from the Children's Network Officer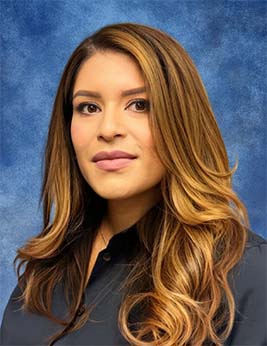 Our programs and educational campaigns all have one overarching goal: developing the foundational capacity of our county and community service providers so that they can provide the appropriate care and resources to our children and families. Our program coordinators achieve this goal by providing various training opportunities, promoting public awareness and educational campaigns, attending outreach events, and developing collaborative partnerships with county and community partners.
Children's Network is dedicated to promoting the well-being of children, families and the community.
Wendy Alvarez
Children's Network Officer (Interim)