Infant and Early Childhood Mental Health is the foundation of all future development. Early experiences in a child's life, not only shape the architecture of the developing brain, but lay the foundation of balanced mental health. Through prevention and early intervention, Children's Network supports and nurtures the social and emotional well-being of every child in order to reduce and/or prevent adverse childhood experiences (ACEs).
By creating safe, stable and nurturing relationships and environments for children, we are reducing the possibility of developing long term negative behavioral and social consequences, such as:
Mental Health Condition (ex. anxiety, depression, neurodevelopmental disabilities, autism, post traumatic stress disorder)

Health Conditions (ex. asthma, obesity, cancer, depressive disorder)

Impair School Readiness

Academic A

chievement

Suspension and Expulsions

Socio Economic Challenges (ex. unemployment, poverty)

Homelessness

Involved in Crime/Incarceration

Suicide
Using a multidisciplinary approach, San Bernardino County continues to collaborate with health care, education, behavioral health and child welfare professionals within our community to support all child developmental experiences. Collectively, we identify rising issues, best practices, available services/resources, social-emotional support, as well as strategies for cultivating positive home, community and classroom culture.
It is our mission to create a resilient future for our children and communities.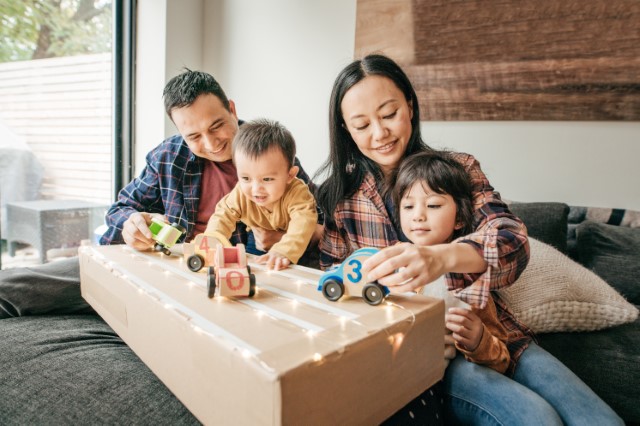 Early Childhood Mental Health Systems (ECMHS)
Quarterly collaborative meetings are held on the second Tuesday of the following months:
January
April
July
October
If you are interested in being part of the ECMHS quarterly collaborative meetings, please contact Children's Network.
A Component of ECMHS is SART/EIIS
The Screening Assessment, Referral & Treatment (SART) program is funded by a dual contract between the Department of Behavioral Health and First 5 San Bernardino. Children ages zero to six will be screened, assessed and referred for treatment through a universal collaborative and standardized process that strengthens and builds on existing programs in the community.
The goal of SART is to improve the mental and social functioning of children as measured by school readiness and the achievement of appropriate developmental milestones. Early Identification and Intervention Services (EIIS) are interventions for children up to nine years of age who are not displaying age appropriate interactions and attachment.
Download Brochures
For more information and locations of Screening Assessment, Referral and Treatment (SART) programs, the brochures below are available:
Please contact the Early Childhood Mental Health Services Coordinator at (909) 383-9677
for more information or to request training.